Resound Hearing Aids
Resound are a Danish hearing aid brand with a long history. They are one of the top 5 hearing aid manufacturers in the world and are renowned for their innovation and commitment to advancing technology. In the last 20 years, their innovation has pushed them to new heights. The introduction of the outstanding new LiNX Quattro range in 2018 has proven once again that they will continue to be on the cutting edge of hearing aid technology for many years to come. In 2019, they have plans to introduce both Artificial Intelligence and Siri integration to both the Quattro and 3D ranges of hearing aids as an upgrade option.
Resound LiNX Quattro
Resound announced the launch of a new premium plus hearing aids called the LiNX Quattro in August 2018. They said at the time that the Quattro works on a completely new chipset from that delivers a huge improvement in processing power and speed. They took the opportunity given by the new faster and more powerful processor to completely re-design their signal processing and the hearing aid features.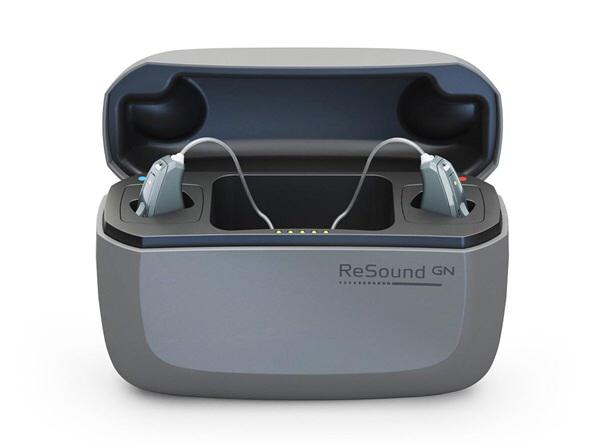 The Hearing Aids & Technology Levels
Quattro hearing aids are Receiver In Canal hearing aids and they are available at three technology levels. There are two hearing aids available at every level of technology. One of the devices is a lithium-ion powered rechargeable hearing aid. The other is powered by traditional hearing aid batteries.
Bluetooth Hearing Aids
The Quattro devices are Made For iPhone (Bluetooth enabled hearing aids) hearing aids. They will directly connect to iPhones and provide stereo audio streaming of calls and media audio from the phones. ReSound has entered into a partnership with Google to deliver a protocol that will allow the Quattro to be the first Made For Android hearing aids ever. When it is delivered, supposed to be sometime in 2019, it will mean that the Quattro can connect directly to Android phones. They will be able to stream audio from Android phones in exactly the same way as they now do from iPhones. Here is a quick run-down:
The devices use a brand new chip platform

The chip has 100% faster processing than 3D

The chip has 100% additional memory over the 3D

Resound are using a new way of handling directionality inputs

They have introduced a redesigned wireless radio with extra signal strength

They have extended the bandwidth of the devices giving extra high-frequencies

They have increased their dynamic input range, calling it industry-leading

The devices are available with a Lithium-ion

rechargeable battery pack and without

The rechargeable hearing device will deliver 24 hours of use with 50% streaming on a three-hour charge

The Lithium-ion devices will deliver 30 hours of use without streaming on a three-hour charge

They will be the first-ever Made For Android hearing aids
A Lithium-ion Rechargeable Made For iPhone Hearing Aid
The LiNX Quattro LT-61 (pictured above in their charger) is a rechargeable direct connection, Bluetooth enabled or Made For iPhone hearing aid just like all the LiNX devices before it. Resound have redesigned the wireless radio though and they say that it is more powerful than ever before. That should translate into pretty stable connection to the iPhone and hopefully Android phones when Android releases the new version.
Making it a rechargeable device makes a lot of sense, although they have used the chip upgrades to improve power consumption, a rechargeable option allows you the comfort of never having to worry about hearing aid batteries. The battery life is also fantastic, they say that you will get 24 hours of life even if you are streaming for 50% of the time, that's pretty amazing. The device shown above is the rechargeable option, but they are also offering a traditional hearing aid battery model which is based on the LT-62 using a size thirteen battery.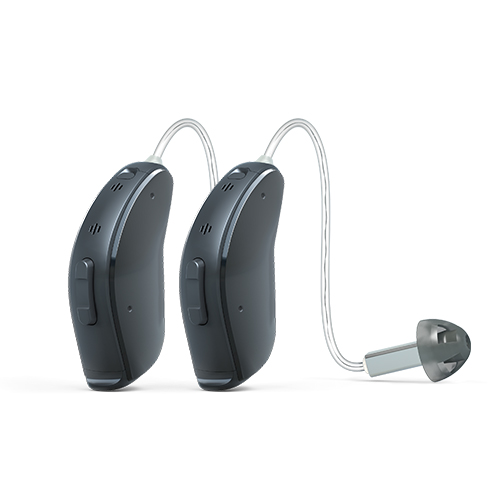 Traditional Zinc Air Powered
The LT-62 is a traditional zinc-air powered device that takes a size 13 battery. As well as being able to connect to iPhones, the LT-62 has a telecoil onboard which will allow you to connect to public loop systems. The device offers a multi-functional button which acts as volume control and programme button.
The LT-62 is also water-resistant. This might be the device for you if you want an on-board telecoil receiver. Resound say that the new power management system will increase the battery life of the 62 type device by 20%. Even though the devices are slightly larger than the rechargeable version, they are still very discreet, sitting on the ear comfortably.
As with other Resound hearing aids, the Quattro is available in multiple colours and they can be used with different receiver power levels meaning that they should be able to meet many style needs and hearing loss demands.