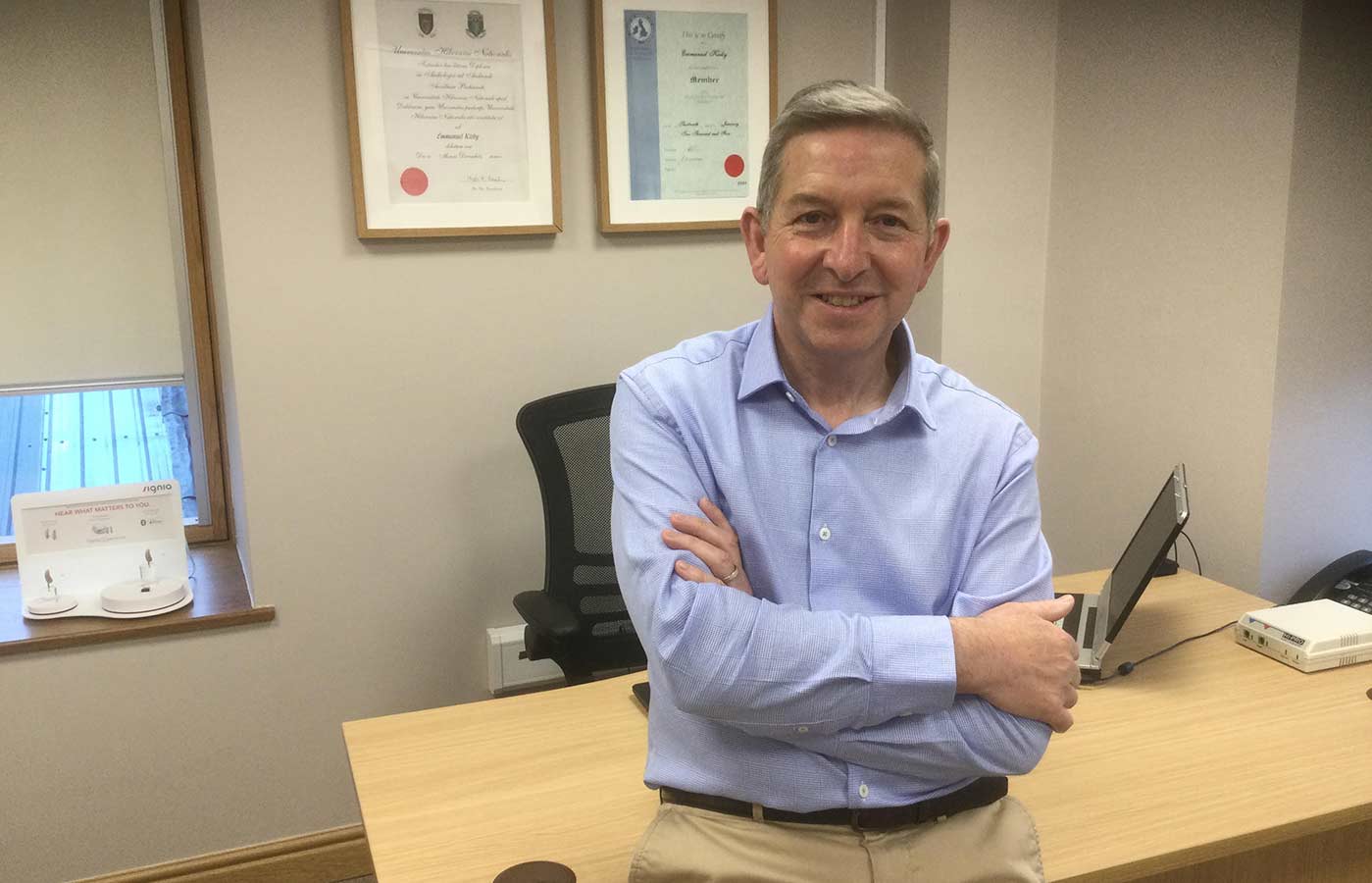 Better Hearing
High-Quality Local Service
Family run hearing healthcare business, providing care in our community
Local Family Run Independent Hearing Care Business
Start your journey to better hearing
Better Hearing is a privately owned and operated Irish Business. We are an independent hearing healthcare practice owned and run by Emmanuel Kirby Dip. HAA FISHAA, who is the principal audiologist and his wife Karen who looks after operations and administration. Karen and Emmanuel are local to the area and have lived in Malahide for over 30 years. We are located in the Salus Medical Clinic, across from the Lord Mayor's pub in Swords.
Emmanuel is a fellow of the Irish Society of Hearing Aid Audiologists and holds a Diploma in Hearing Aid Audiology from University College Dublin. He also holds certifications is ear wax removal, both microsuction and irrigation. Karen is a Qualified Financial Adviser with 30 years experience in Management of financial services, customer service and operations.
We believe that hearing problems require understanding and sensitivity so that an affordable and suitable solution to your hearing loss can be found. As an independent Hearing Aid Clinic, we pride ourselves on our integrity in providing unbiased advice on products from the world's leading manufacturers. As a local business we have always had a policy of supporting local suppliers and services whenever possible.
We understand that the road to 'Better Hearing' is a journey and the hearing aid is just part of that journey. Care, counselling and ongoing rehabilitation are imperative to improving your hearing. This is why we are committed to your aftercare.
Your Assurance
When you choose our Hearing Clinic for your hearing care you can rest assured you have found a partner to help you on your journey to better hearing
We only ever offer main brand hearing aids, we never use so-called white label hearing aids
Consistent Care From a Dedicated Hearing Care Professional
Discovering Your Needs
Much like a prescription for glasses, your hearing test results are crucial to making a diagnosis and treating any kind of hearing loss. That's why we offer a professional hearing test in a relaxed manner.
Understanding Your Needs
In order to deliver a custom solution that will meet all of your needs, we first must understand them. Getting to know you and your needs is an important part of the process.
Customising Your Solution
Your hearing aids will be customised to your hearing loss. We will ensure that they will deliver the help you need in the situations you need it.
Continuing Care & Support
Our promise is that you will receive the continuing time, care and attention, that you both need and deserve, to hear better. We believe that hearing better and reclaiming your joy in life is important. Our job is to help you achieve both of these things through dedicated care.
Start your journey to better hearing
Rated 5 out of /5 based on over 40 customer reviews
"Thank you once again for such wonderful service. The two week trial you offered meant I could make a decision in my own time, it also showed me how much I was missing out in everyday conversation."

Mrs P Lawless, Skerries

"Thank you for the kind & attentive service you gave my father while getting his new hearing aids. It was greatly appreciated "

Mrs M Connell, Swords.

" Emmanuel, thanks a million for all the help. I compliment you on your professional manner. The hearing aids are brilliant and it has been noted by others the difference they make and how I have stopped speaking really loud. "

Mr D Bambrick, Dublin.
Keeping You Safe With In-Depth Covid-19 Protocols LEARN MORE